♥- I had to stop…
♥♥- I did not enjoy it
♥♥♥- I wouldn't read it again, but I enjoyed it
♥♥♥♥- An unforgettable experience
♥♥♥♥♥- one of my favourites; unforgettable; legendary
February 2019
8.5 pages a day
I have never been much of a reader, so reading approximately eight pages a day for the month of February is a great start to the semester. Of course, my goal is to read even more frequently in the upcoming months as the semester progresses. For March, I want to finish reading The Kite Runner and All the Light We Cannot See. Hopefully, I'll be able to start The Life of Pi in the next month as well.
***
The Kite Runner, Khaled Hosseini
Read 132 pages of 391
♥♥♥♥♥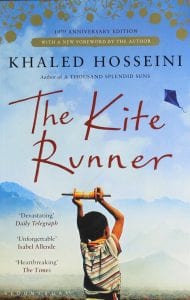 Last year, I read the book Night by Elie Wiesel, and I vowed that it would be my number one favourite book of all time. All of what I thought has changed now that I have read a little bit of The Kite Runner. Khaled Hosseini captivated me with the first few opening pages. The phrase "There is a way to be good again" is so hopeful– so beautiful– that I needed to know what Amir did wrong. I needed to keep reading! Then, I came upon a quote which inspires me every day of my life: "For you, a thousand times over." The Kite Runner is a story of love. It is about the reality of love between friends. So far, it has been a heart-wrenching, tear-jerking, and unforgettable experience. I cannot wait to get back to reading it!
All The Light We Cannot See, Anthony Doerr
Read 107 pages of 530
♥♥♥♥
So far, All The Light We Cannot see has been a beautiful experience. Since Marie-Laure is blind, the author does an amazing job at being very descriptive and making use of the other senses that provide beautiful imagery that really captivates the reader. The style of having alternate perspectives every chapter keeps the story interesting and forces the reader to really think when the next chapter begins. Unfortunately, I haven't read much of this novel. I hope to read even more!
---
March 2019
5.5 pages a day
This month has been an amazing experience for my creative mind. I traveled for hours on the road, which inspired me to write and discover even more new things. Unfortunately, I was utterly unable to read. I'm disappointed in myself, but I won't let that affect my belief in my own abilities. My goal does not change from February. I will try even harder to push myself. I hope that by the end of the month, I'll be able to say that I read at least two books.
The Cellist of Sarajevo, Steven Galloway
Read 171 pages of 261
♥♥♥
Despite the fact that I'm forced to read this novel (The Cellist of Sarajevo is my novel study for ELA 20-1), I genuinely enjoy the story so far. The novel is written in three different perspectives. As readers, we follow Arrow, Kenan, and Dragan, as we observe their different lifestyles in the middle of a civil war. Much like the novel All the Light We Cannot See, the perspectives of the characters are quite different from each other. Galloway's style is simple, it's definitely enough to create an accurate picture in my head. This novel is overall a good read, and I'm excited to see the end.
---
April 2019
5.8 pages a day
This has definitely been my busiest month of the entire year so far. With the One Act festival; the season of Lent; Holy Week and Easter, April has been one crazy ride. It may have been full of stress, but it was equally full of creativity and art. This month, I finally finished the Cellist of Sarajevo and did a complete analysis of my One Act play "Any Night." I didn't fully accomplish my goals, but I certainly read a little bit more than I did last month. Going into poetry, i believe I might find myself having an easier time reading poetry books and short stories and such. I think this is a good way to get into reading before diving into full novels.
The Cellist of Sarajevo, Steven Galloway
Read 261 pages of 261 (finished the remaining 90 pages)
♥♥♥♥
It's funny because I actually really enjoyed this book despite my initial reactions in March. One theme that can be traced throughout the entire novel is the importance of Art, and I couldn't agree more. I've always been a lover of art, and the Cellist of Sarajevo has touched that side that of me. This novel tells that, amidst the war and destruction, it is art that will be able to move a human being and influence their decisions thereafter.
Any Night, Daniel Arnold and Medina Hahn
Read 84 pages of 84
♥♥♥♥♥
The beauty of Drama is that it gives an individual the opportunity to be in the mindset of a character that can be completely different from their own personality. Any Night gave me the opportunity to play the character of Patrick.